Product Details:
| | |
| --- | --- |
| Capacity | 2 persons |
| Size | 235*125*35cm |
| Net Weight | 60kg |
| Loading Weight | 100kg |
| Power | Foot |
| Bike Frame | Aluminium Alloy |
| Bike Body | Polyethylene |
| Brand | Jason® |
The tandem water bicycle is also known as a water bike ride, which suitable for theme parks or amusement parks, funfair playgrounds, etc. This water pedal bike is made of the material of imported impact-resistant, high density, UV resistant polyethylene. It is durable, lightweight, beautifully designed, and have uniquely visual, making the passengers enjoy nature.
This water bike ride does not need training for operation easily, is the first choice for fitness and water recreation. It is suitable for a single person, two people or family play in the lake, reservoir, and seaside. It is one of most popular
amusement park rides
.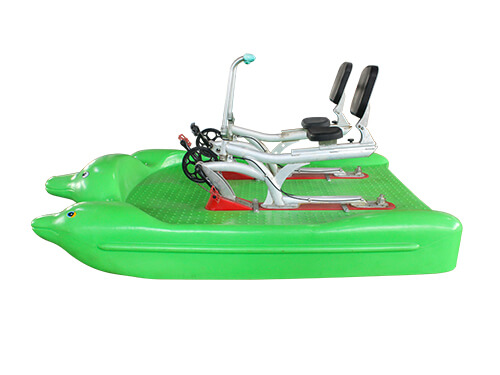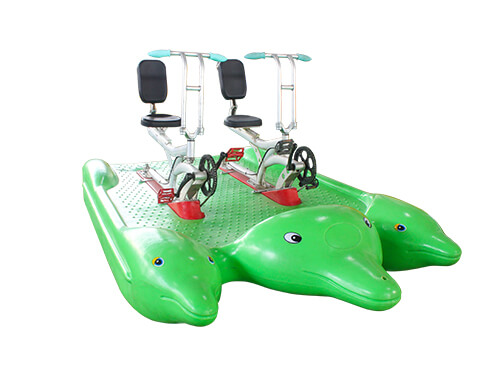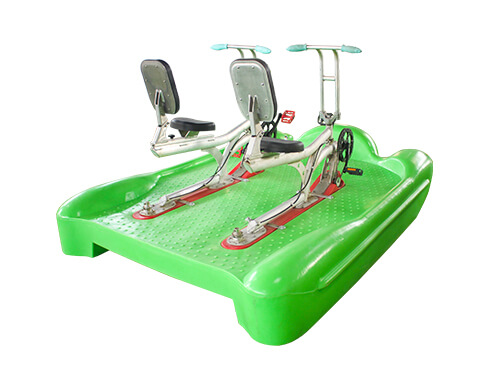 Features of water bike:
1.Stable: wide-body structure with many buoys; The lateral stability is much better than traditional boats with monomer structure. Anti-wave can operate in 2-meter-high waves and it will more stable in rivers and lakes.
2.Fast: The speed is very fast because we combine the gear and chain. The normal running speed is 8-13km/h. The max speed is 18km/h.
3.Rust-proof and anticorrosion: The chain and gear drive unit is sealed water-tight, providing protection even in salty water; working together with the propeller making it faster.
4.Shallow water: Operates in less than one foot of water. Automatically pivots up and over obstacles like rocks or sand.
5.Quiet performance: The water bike is engineered for silence. It won't disturb wildlife.
6.Easy to install: One person can assemble and disassemble the bike in several minutes, without any tools.