Product Details:
| | |
| --- | --- |
| Product Name | Happy Elephant Inflatable Castle |
| Material of execution | Durable PVC, double-laminated and double-stitched nylon |
| Maximum user weight / maximum load | 45kg/135kg |
| Warranty | 1 year |
| Dimension | Length: 370 cm, Width: 275 cm, Height: 200 cm |
Happy Elephant Inflatable Castle Introduction
This unique
inflatable toy
will provide an unforgettable experience on summer days, also ensuring physical activity while having fun! This inflatable toy has an area of 10.17 m
2
. It contains so many attractions that it is impossible to get bored in it!
In this inflatable castle you can jump, climb, slide down the slide, play basketball, you can crawl into the elephant cave through the tunnel. It is an attraction
kids rides
.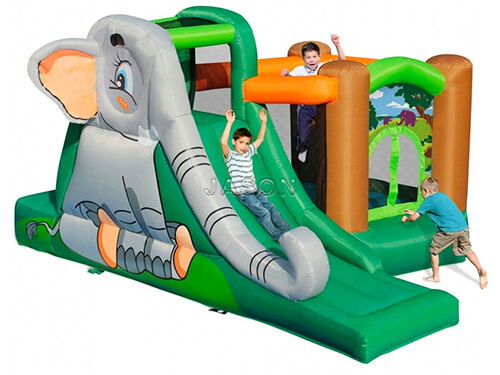 Why Is It Worth Ordering this Inflatable Bouncy Castle?
1.This
bouncy castle
is made of durable PVC and double-laminated, double-stitched nylon, the material is both durable and soft.
2. Continuously inflated by an electric blower, even when a hole appears, the castle stays inflated so you don't have to worry about possible damage.
3. Small size allows easy storage.
4. 7 different attractions and forms of play provide variety and fun for children.
5. Safety net, keep you safe.
6.Perfect for indoor and outdoor use, making fun possible regardless of the weather and for various occasions.
7.It sets up in moments so you can quickly organize your kids to have hours of fun!
8.It is perfect for playing with friends, giving a lot of fun.
9.Lots of attractions!
This inflatable toy offers the following attractions and opportunities for games and activities: trampoline, slide, dry pool, basketball basket, ringo pole, hole for throwing balls,tunnel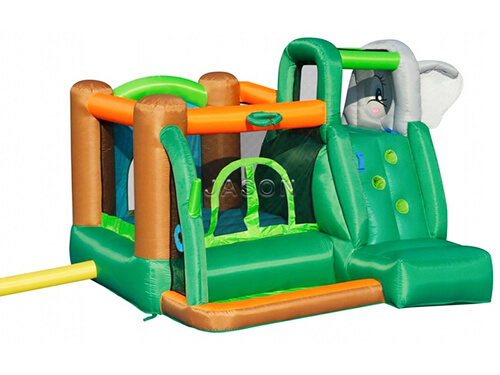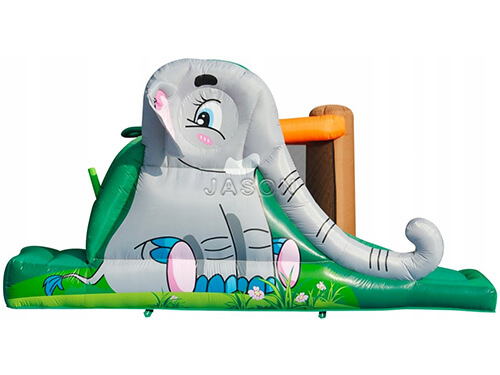 What is the Inflatable Bouncy Castle Kit Contents:
Inflatable castle
Electric blower
Portable nylon bag
Anchor pegs
Repair Kit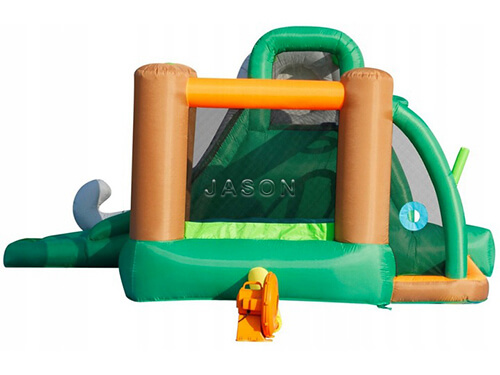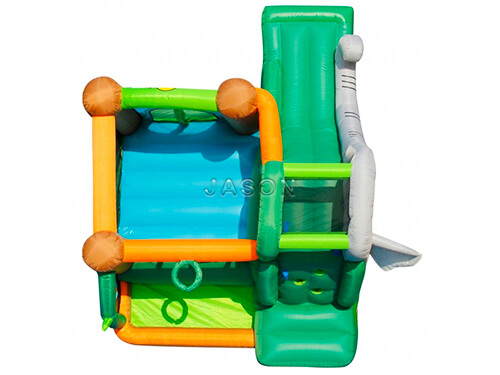 Inflatable dimensions:
Length: 370 cm
Width: 275 cm
Height: 200 cm
What is the Inflatable Bouncy Castle Construction?
1.The entire structure of the inflatable toy was created as a result of the use of special, air-permeable fabrics, connected with each other with reinforced seams.
2.An electric blower, supplied with the inflatables, replenishes the air escaping through the fabric and seams, allowing children to play safely and land on the soft surface of the structure.