Product Details:
| | |
| --- | --- |
| Product Name | Dinosaur Bouncy |
| Model Number/Name | Durable PVC, double-laminated and double-stitched nylon |
| Maximum user weight / maximum load | 45kg/135kg |
| Warranty | 1 year |
| Dimension | Width: 350 cm, depth: 350 cm, height: 245 cm |
Dinosaur Bouncy Castle Introduction
Are you looking for something special for your child? In that case, we have something especially for you - a kind bouncy castle for a garden with a real dinosaur. This model will surely appeal to active children who love outdoor activities. What have we equipped it with? The design has: a slide, pool with balls, play basket.
Among the other inflatables, the proposed model is distinguished by the addition of a wonderful character of a happy dragon, which gives it a fairy-tale look. In addition, the wings of this friendly creature can easily protect children from the sun during hot days. It is one of the most popular kids rides.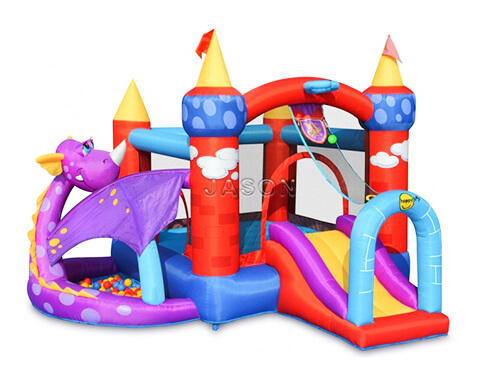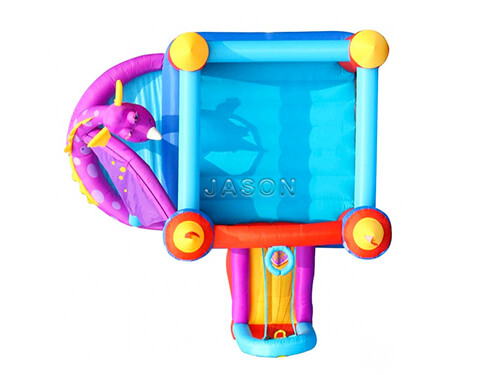 Dinosaur Bouncy Castle Features
Inflatable: Dinosaur Castle
inflatable trampoline
a slide
Pool with balls
throwing ring
base 320×485 cm
a toy perfect for five people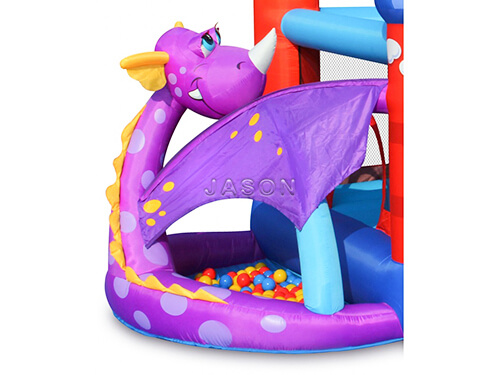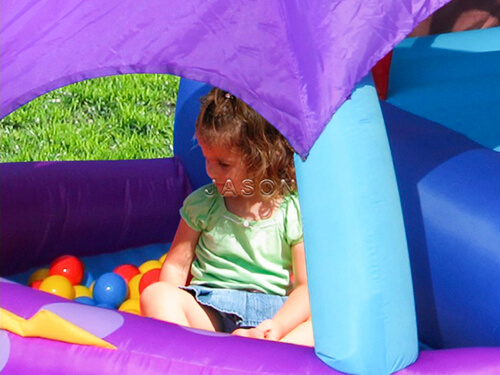 Why is it Worth Ordering an Inflatable Castle with a Slide?
1.The small inflatable jumping castle is a perfect proposition for the youngest family members.
2.The model is covered by a one-year warranty, which best confirms its durability and high quality.
3.Thanks to the integrated multi-chamber system, the blowball offers the perfect jump effect-even if several children jump at the same time, the rebound effect remains unchanged.
4.Air blows gently through the seams, while the included blower constantly forces air into the inflatable toy,
4.Disassembly is completely hassle-free, and the inflation itself takes only about 60 seconds.
5.The large area means that the attractions can be used by several children at the same time.
6.What's more, we used the best and durable materials to produce the offered inflatable castle with a slide. These are:
7.Strong mesh used in the side walls, thanks to which parents can control their child's play at any time,
8.Durable PVC and double-laminated double-stitched nylon.
9.Safety and high power of the included blower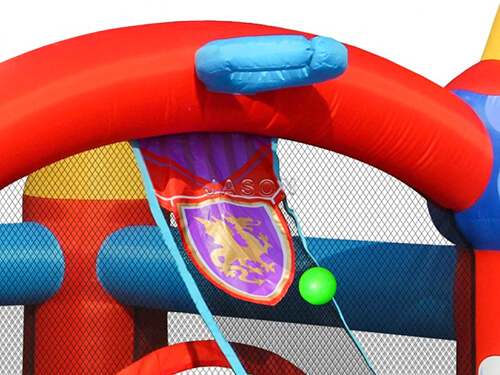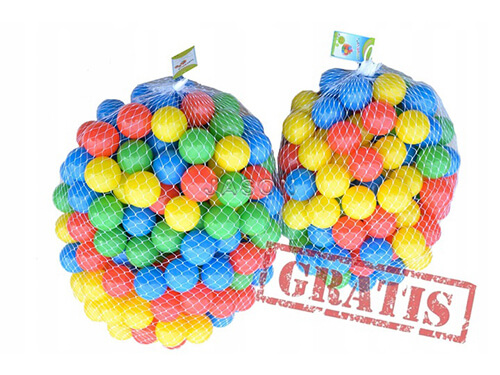 What Do You Get in the set with the Inflatable Jumping Castle?
Each bouncy castle, which will be perfect for birthdays or festivals, provides, above all, great fun. However, to make it safe and possible for as long as possible, our team includes with each order:
30 balls for the pool,
4 pins for attaching the inflatable
A powerful blower,
4 pins for mounting the blower,
repair kit,
carrying bag.