Product Details:
| | |
| --- | --- |
| Product Name | Baby Bouncy Castle |
| Material of execution | Durable PVC, double-laminated and double-stitched nylon |
| Maximum user weight / maximum load | 45kg/135kg |
| Warranty | 1 year |
| Dimension | Width: 280 cm, depth: 300 cm,height: 210 cm |
Baby Bouncy Castle Introduction
This inflatable castle for children is suitable for spending time outdoors and having fun even more fun! Our products prove that you do not have to have a large garden to be able to provide your children with a carefree and joyful childhood. One of our proposals is the Kangaroo inflatable jumping castle at an affordable price, which, despite its relatively small size, provides many attractions: a slide, basket for the game, two velcro darts.
Its walls are decorated with joyful, exotic images of kangaroo and koala bear, which it owes its name to. We invite you to know the details! It is so welcome for kids as one of kids rides.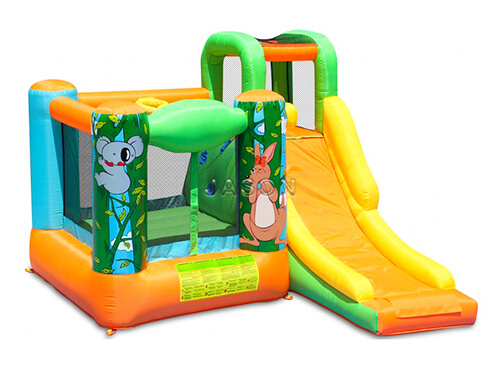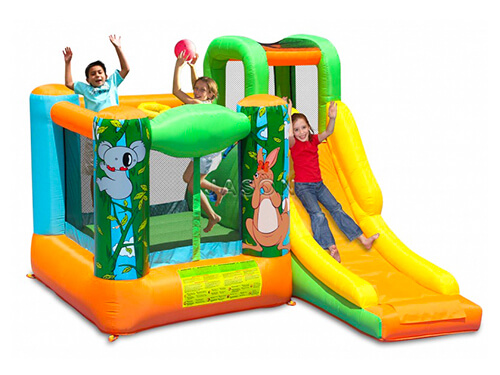 Baby Bouncy Castle Features
Inflatables: Kangaroo inflatable trampoline
-large slide
-throwing target
-climbing wall
-base 280×300 cm
-height 210 cm
-a toy perfect for four people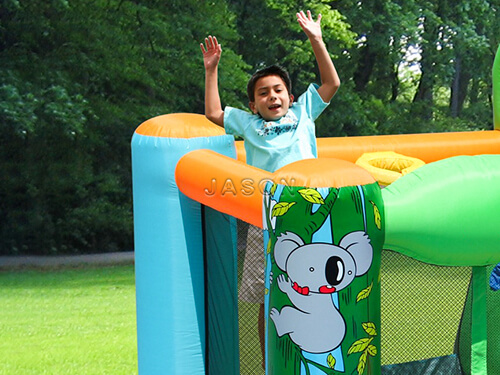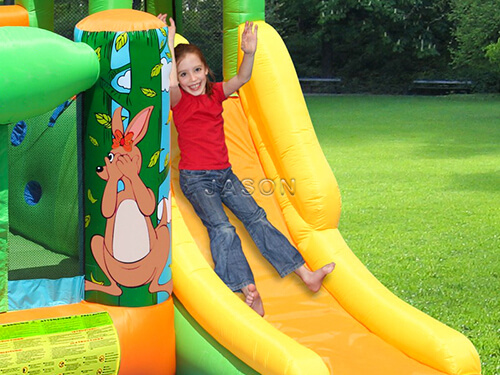 Why is It Worth Ordering Kangaroo Inflatable Jumping Castle?
1.An inflatable garden castle with a slide that will be perfect for birthdays, festivals and everyday 2.It is made of durable PVC and double-laminated and hemmed nylon, stays inflated thanks to the continuous flow of air provided by the attached blower, has side walls made of a strong mesh, which additionally allows parents to control the play,
3.It is easy to transport and hassle-free to assemble - you can easily unfold it yourself, and the inflation itself will take you about 60 seconds.
4.What's more, the Kangaroo inflatable castle with a springboard has a large enough area that up to 4 children can use the attractions at the same time.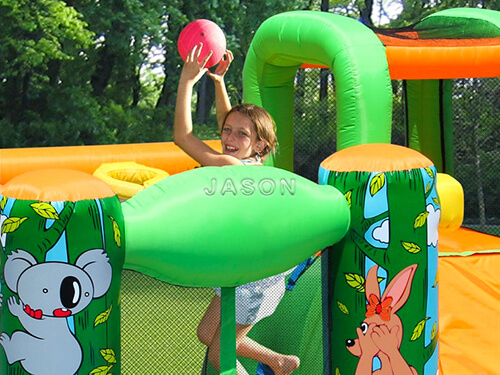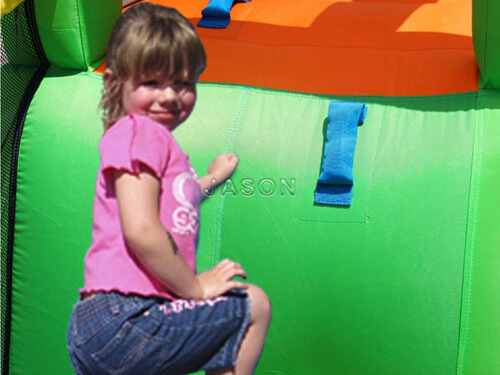 What Do You Get in the Kit?
By deciding to order an inflatable castle for your garden in our online store, you get a set of products necessary for trouble-free unfolding, inflating and carefree fun. These are:
Kangaroo inflatable
Throwing balls,
4 pins for attaching the inflatable
A powerful blower,
4 pins for mounting the blower,
Repair kit,
Carrying bag.